Uncover the power of your people: Workforce Performance
Uncover the power of your people: 
Workforce Performance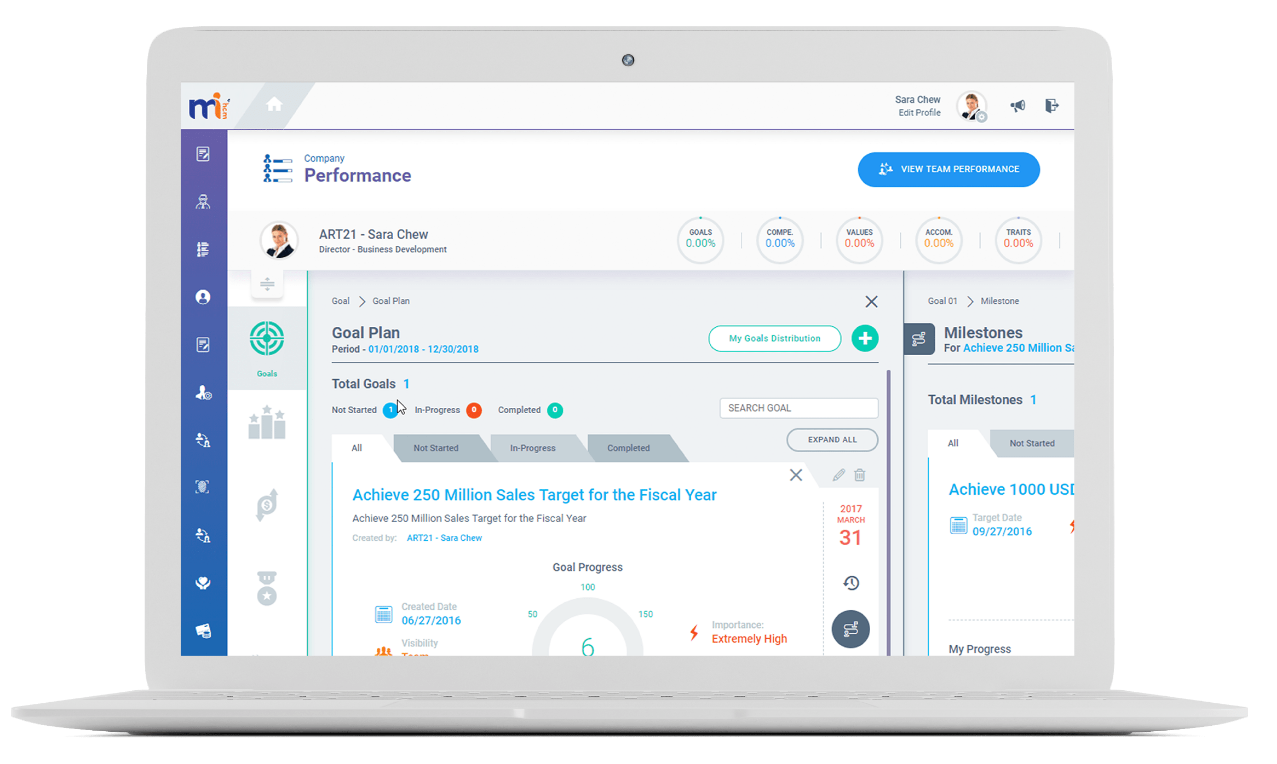 Set up a culture of performance and excellence in the organisation
From setting KPIs to conducting appraisals, MiHCM helps employees stay in line with goals
Powered by continuous feedback and real time progress tracking
Measure employee performance based on a series of performance indicators
Make smart decisions based on data to accelerate performance
Identify learning needs and future successors based on performance outcomes
Configurable Performance Templates
Configure your performance templates to utilise any of the available performance areas (goals, competencies, additional accomplishments, culture values, potential assessments, traits, 360 feedback).
Set goals with a target date, priority level and goal visibility. Cascade and revise goals based on key result areas (KRAs) to support your company objectives, in addition to KPIs.
Real-time Progress Tracking
Allow your workforce to update their goal related achievements as they progress. Track your team's progress and provide actionable feedback.
Get feedback from Supervisors, Peers, Internal Customers and Subordinates, and leverage system generated feedback analysis to gain further understanding and key insights.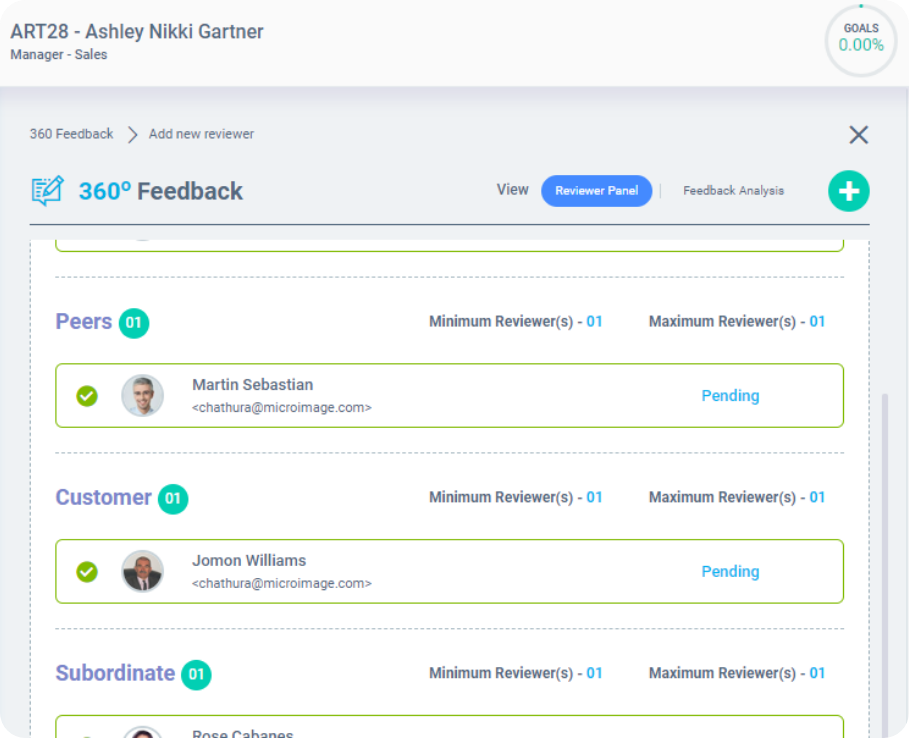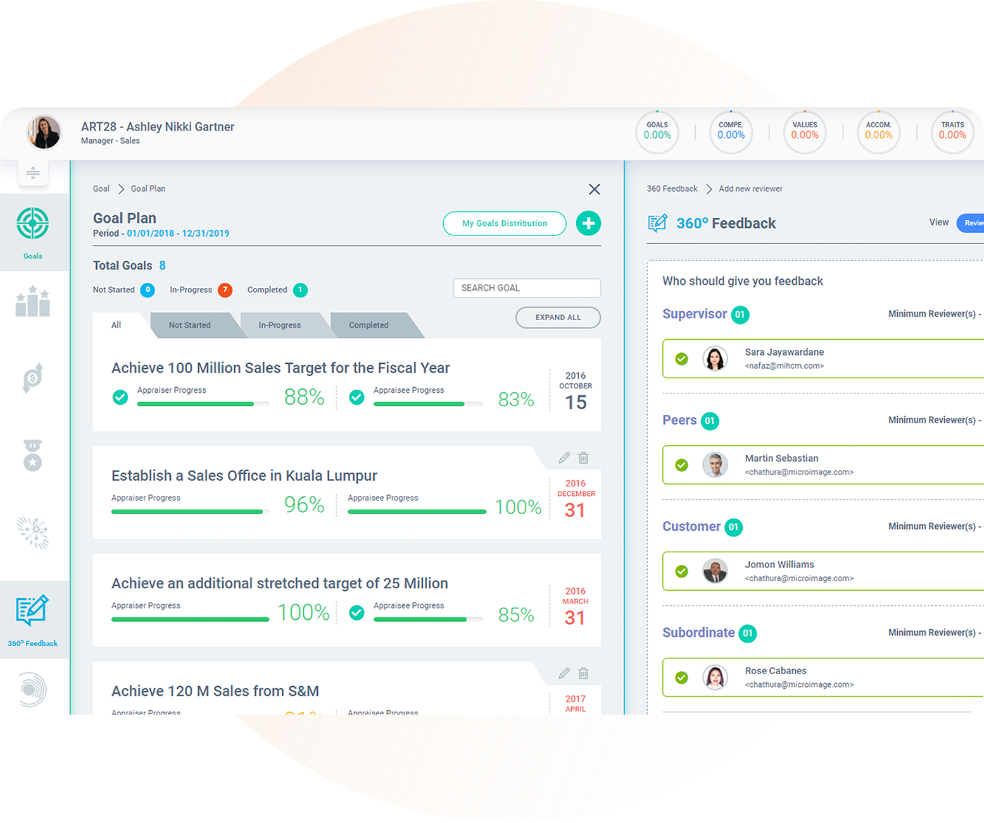 Define and categorise employee competency levels through performance appraisals. Easily view whether the employees are below the required competence levels for their position.
Evaluate your employees against your organisation's culture and values, and build a positive company culture aligned to your core principles.
Utilise the potential assessment determinant to automatically fill out the 9-quadrant analysis. This makes it much easier to understand which employees are underperforming.
Create development/improvement plans based on employee performance, and expedite growth through the seamless integration of the performance management module with learning management, succession planning, compensation planning and workforce analytics.
A complete organisation performance view - Executive Summary
Browse employee performance overviews which combine goals, competencies, values and additional accomplishments, traits, potential assessment and 360° feedback.
The power to make smarter performance decisions, faster.
Compare performance between employees to gauge their relative progress in all performance dimensions.
Visually capture the best-performing employees who exhibit a relatively higher degree of performance and potential.
Visualise the performance distribution in your organisation to support performance related decisions.
Measure an employee's current performance and their potential to develop professionally in line with company expectations in a 9-box Grid.
View the entire talent fact sheet in the Talent Profile.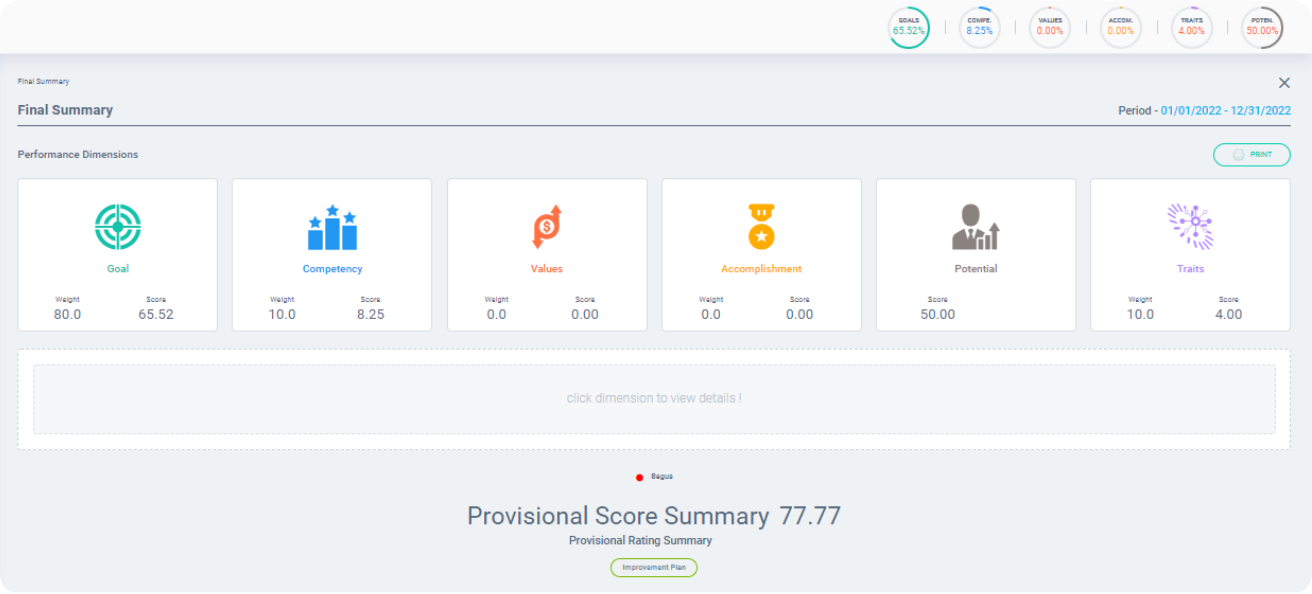 Explore how we can help you transition to the future!